Overview of the Virginia Opioid Abatement Authority and opioid settlement funds
The Opioid Abatement Authority (OAA) was established by the Virginia General Assembly in 2021 as an independent entity to abate and remediate the opioid epidemic in the Commonwealth through financial support from the Virginia Opioid Abatement Fund in the form of grants, donations, or other assistance, for efforts to treat, prevent, and reduce opioid use disorder and the misuse of opioids in the Commonwealth.
The OAA serves to build partnerships between Virginia's cities and counties, state agencies, and providers of services in order to assist individuals suffering from opioid use disorders and co-occurring substance use and mental illness. These partnerships address the full range of services providing education about substance use, prevention, treatment, and recovery supports.
Financial assistance offered through the OAA consists of settlement funds paid to Virginia by prescription opioid manufacturers and companies in the prescription opioid distribution network. As of January 19, 2023, three national-level opioid settlements have been approved by Virginia state courts, resulting in payments to Virginia. The first was from McKinsey, a consulting/marketing company, for just over $13 million. The second settlement was part of a nationwide agreement that may reach a maximum of $21 billion involving three wholesale distributors of prescription opioid medications (McKesson, Cardinal Health, and AmerisourceBergen). The third was with opioid manufacturer Janssen Pharmaceutical which may be worth a nationwide maximum $5 billion.
As these settlement agreements were being negotiated and finalized in 2020-2021, the Office of the Attorney General of Virginia worked with attorneys representing cities and counties and various statewide organizations to negotiate Virginia's memorandum of understanding (MOU), which establishes an allocation plan for opioid settlements within the Commonwealth. The MOU includes a formula for distributing the proceeds of opioid settlements based on a measure of harm per capita to communities across Virginia. All 133 counties and cities in the Commonwealth signed this MOU. Nearly simultaneously the General Assembly overwhelmingly voted to pass bipartisan legislation that created the Opioid Abatement Authority as an independent entity of the Commonwealth.
The distribution of opioid settlement funds in Virginia is governed by (1) the specific agreement(s) with the settling companies (and incorporated in a Virginia court order) and in accordance with (2) the statewide MOU and (3) the statute establishing the Opioid Abatement Fund and the Opioid Abatement Authority.
In accordance with the statewide MOU and statutory limitations, the OAA distributes funds to Virginia's cities, counties, and state agencies as these are the parties involved in the litigation. However, those entities may use funds they receive from the OAA to enter into agreements with service providers.
The flowchart below provides a brief overview of how these funds are distributed in accordance with these requirements.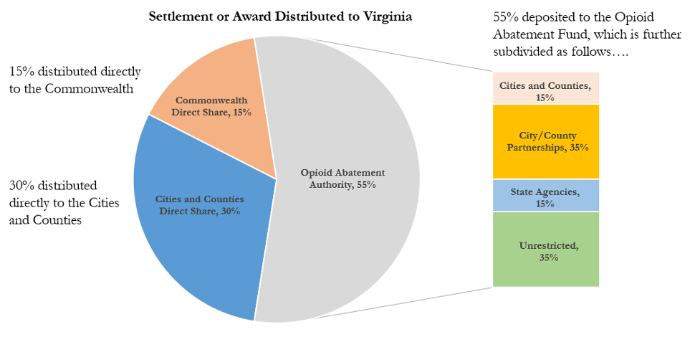 Direct Distributions to Cities and Counties from the Settlement Administrator (30% of total)
It is important to note that some portions of the settlements are distributed directly to Virginia's cities and counties. These payments are distributed directly to the cities and counties from the settlement administrator without flowing through the OAA. For that reason it is important for city and county officials to be fully informed about the allowable uses and limitations for these funds as specified in the actual settlement agreement.
In accordance with the allocation agreement (statewide MOU), during 2022 Virginia's cities and counties received their first and second direct distribution payments from the Distributors settlement (there were two payments because the Distributors provided funds for both 2021 and 2022). Virginia's cities and counties will continue to receive annual payments from the Distributors settlement until the year 2038.
Similarly, in 2022 Janssen provided its first payment to Virginia's cities and counties. The total Janssen payout will take ten years, as opposed to 18 years with the distributors, but Janssen is provided first four years' payments all in the first year (2022). That means cities and counties received one large payment from Janssen that covered the 2022, 2023, 2024, and 2025 amounts. Cities and counties will then resume receiving single year payments from Janssen on or about June 1 each year from 2026 through 2031.
Direct Distributions to the Commonwealth (15% of total)
Funds will also be direct distributed to the Commonwealth of Virginia for appropriation by the Governor and General Assembly.
Distributions from the OAA (55% of total)
Funds that are deposited in the Opioid Abatement Fund will be distributed as noted in this chart. All funds provided by the Authority to cities and counties and to state agencies must be used to abate and remediate the opioid epidemic. A full explanation of what this means is provided within the settlement agreement and in the statute, but in general most efforts that prevent, treat, and support recovery from opioid use disorder (and co-occurring addictions and mental illness) are covered. Cities and counties can expand existing programs or implement new programs, but no supplanting of existing expenditures is allowed, and no indirect costs are allowed.
Distribution to Cities and Counties (15% of OAA Funds)
Each city and county in Virginia is eligible to receive a specific amount of OAA funding in accordance with the statewide MOU. In order to obtain these funds, the city or county will be required to agree to certain terms and conditions and must apply to the OAA for approval of the use of those funds.
Distributions for Cooperative Projects involving Multiple Cities and/or Counties (35% of OAA Funds)
In addition, the OAA will award funds for projects involving two or more cities and/or counties working together on an opioid abatement/remediation project.
In considering potential awards, the OAA Board is directed by the statute to prioritize:
Programs or organizations with an established record of success (expansion of existing program or implementation in a new city or county);
Programs in communities with a high incidence of opioid use disorder or opioid death rate, relative to population;
Programs in historically economically disadvantaged communities; and,
Applications that include a monetary match from or on behalf of the applicant, with higher priority given to an effort with a larger matching amounts
Considering that a minimum of 15% will be allocated to participating cities and counties and at least another 35% will be provided for cooperative projects with participating cities and counties, this means that a total of at least 50% of the Opioid Abatement Fund will be distributed out to Virginia's cities and counties.
Distribution to State Agencies (15% of OAA Funds)
The OAA will also be distributing funds to state agencies through a separate process for opioid abatement/remediation projects.
Unrestricted Funds (35% of OAA Funds)
Lastly, the unrestricted portion of the Opioid Abatement Fund is designed to allow the Board the ability to support opioid abatement/remediation projects in other ways such as the OAA's "Gold Standard" Incentive for Cities and Counties. This is also where the OAA funds its administrative costs.